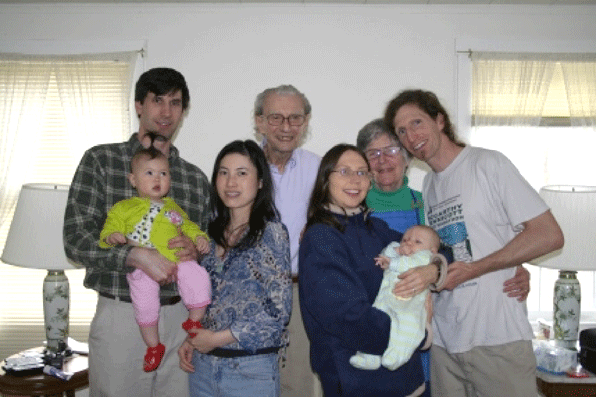 Remembering Larry with Laughter & Joy
Merry Christmas and Happy New Year
The Myers Family
-----------------------------------------------------------------------------------------------
Dear Class of 1964, I know you think of yourselves as the Class of 1968, but you were the last class I taught at New Lincoln and that was Group M in 1964. Remember that I still see you as you were at 12 to 14 and for those who were in Group J with me, as you were when even younger.
Some memories from those years; not necessarily significant, just ones that have stuck with me over the last 45 years.
>From Group J:
Helen (in some moment of crisis) says "Oy gevalt" and Steve Magid says "Oh Helen, are you Jewish?"
Anthony Elkan was able to look at one whole wall of our classroom including two doorways and conceive the overall design that would include the salient features of the Myths and Legends Core
>From Group M: Either the American History or Asian Studies Core.
I remember that with a few weeks left in the school year I made some proposal to the class for a new project and Michael Kesselbrenner brought me up short with an extensive list of what we still had to do. This was disagreement where he was clearly the winner and rightly so. I still have
a copy of the Student's Pen of which he was Editor and his editorial notes the rush of work and help from Gladys Guzman necessary to put out that publication.
Danny Allentuck says in an exasperated tone of voice "Just tell me Helen, is Adam Clayton Powell a good guy or a bad guy?" It is only many years later that I've realized that the answer is in the question.
It was during the year of the Asian Studies Core that I had to tell you about Kennedy's assassination. You were out of the classroom at another
class when Gladys Guzman told me of the event. I couldn't believe it and had to check. When you came back to class it was just time to go home and you sat in a solemn semicircle while I told you the news. One of your classmates had experienced the death of her father and was particularly
upset by this news.
It was during this year that I lost, or perhaps more accurately mislaid, a few of you in Chinatown when we were at the Chinese New Year's
celebration. We got on the subway to go back to NLS and it was then I noticed a few were missing. Of course, experienced urbanites that you were you were soon back at school. You can tell now; was it deliberate?
These were the years of the beginning of the Civil Rights Movement and the subject was on our minds too. I remember Larry Rosenberg telling the class that he intended to go on a Freedom Ride that summer.
This is far from all I remember, but the rest is either too insignificant or too embarrassing (to you or me) to be recorded here. I remember every
single one of you fondly and can see you in my mind's eye -as you were at 12, 13, and 14, my favorite age group to teach.
My regards to you all. I am sorry not to be with you. Helen